Conjoining Business with Android and IOS Apps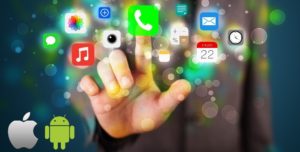 Tech is the new trend and yes the 21st centurions are behind this trend. Being a business tycoon or an incubator, having a mobile app for the business is not an option anymore. The business is at a stage where mobile apps have surpassed the journey from whether I should have to I should have. There's an app for everything, to connect you with friends you have Facebook, to make you beautiful you have Instagram, to plan your trip you have MakeMyTrip, to make you wittier you have Twitter, you name the function and you have an app for the same.
One of the must do things of business is to keep a track on the competitor. If the competitor is following the mobile application trend, then by default you will have to do it. It is very rightly said that if you can't break the chain, just join the chain. With app market at boom, Android app Development Company hasn't left any sector which has led to a situation where you will find anything but innovative. With hype in mobile users, the demand for Android and IOS apps are also rising. Let's make an in-depth study on why and how Android and IOS apps are driving business.
1) Dig your feet in market
What's trending in the market? A question which should hit your mind right at the moment when you think of developing a mobile app. Well, coming up with an app that's been on the market for so long, chewed and spat out by the user isn't going to yield anything to your business. Research about the app building process both in Android and IOS, its features, functionality and marketing strategies. Hunt for the market requirements and hit on the same. Well, make sure you come up with an app in time or else after all these efforts also, you will have an old and copied concept of the app.
2) Appearance
What attracts you about a girl/guy the most at first glance? Looks, right? The same concept also applies to app designing as well. The user will first judge your app from the icon and outer look. Of course, this is not something that will keep them engaged at the later stage, but yes, it will inflame curiosity in the user to explore your app. Don't fall for the low budget and set aside an appropriate budget to hire an expert and experienced app designer who cannot just drive the users at the first glance but also keep them engaged and convert them into customers.
3) Working
After designing, comes the stage of functionality. Keep it as simple and easy as possible. Cluttered screen and messy functions can make the user leave instantly and look back again. Any Android or IOS app you develop for your business, indulge your time and efforts to create efficient working of the app.
4) Check for defects
Your business will crash instead of getting hype if you come up with an app having bugs. You cannot lose your business on the grounds of a defective app. Hence, select a set of audience and take your app for a test drive.
We are done with how section of mobile application development for business, now let's explore why section.
Users have overcome the desktop and laptop phase and the majority of them have switched to mobile phones for their routine tasks. A massive part of a business can be lost if the business lacks mobile app. It's a need, despite the size of the business. If you indulge in the small one and think that who will download an app for the small business then the answer is everyone. For making your business competitive along with lucrative, diverge your ways to mobile apps.